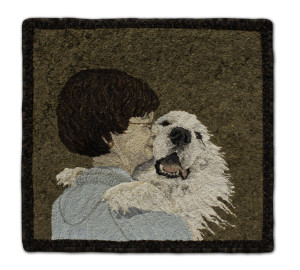 AS GOOD AS IT GETS
Tom-Boy and Liz Marino, adapted from photo
Liz received her McGown Teachers' Certification in 1999 and now completed her
Ontario Hooking Craft Guild's Teacher Certification in 2016. She has taught at the Pearl K. McGown National Show and for guilds and rug camps. Liz currently holds the positions of Chairman of Communications for the Pearl K. McGown Guild Hookrafters and is the Assistant Director of the McGown Teachers' Workshop, Southern Division.
Liz is also one of the co-founders of Canine Link Therapy Dogs which have positive impacts on many, including critically ill patients, individuals with developmental disabilities, and veterans returning home from service.
Liz and her husband Tom own Ivory Pond Farm, where they raise llamas in South Egremont, MA. For information about llamas contact tmarino@wildblue.net. 
She runs The Dancing Cranes Studio at her farm where she has on-going classes and special workshops. Liz also is available to teach at Guilds and Rug Camps. Contact Liz for outside teaching schedule at: llamama@wildblue.net